About Us
Professional Selections has been helping companies select the best people since 1989. We provide customized employment evaluations to hundreds of organizations, in a variety of industries, across America and Canada.
Selection Insight Survey - A state-of-the-art system for evaluating and rating employment candidates
Coaching Insight Survey - Measures the subject's abilities, opportunities and potential as an achiever
360° Leadership Survey - Measures leadership effectiveness and describes opportunities for improvement
Perception Survey - Evaluate how well things are working, in your company or organization, and where you could improve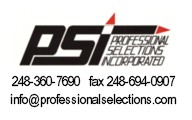 Employee Selection
The Selection Insight Survey gives you a clear description of the candidate's personality, as well as an in-depth understanding of their capabilities in a specific position and their potential contribution to your team.
The subject is measured against a description of top performers in the position, and a 1 to 10 rating gives you a clear indication of how well the candidate meets your needs. The Selection Insight Survey gives you a comprehensive evaluation of your candidates ability and potential for only $195.